Students from 31 Collier County Public Schools were honored this spring with Rising Reader Book Awards 2017, ending another record year for K is for Kids' Readers and Leaders program.
"The end-of-year Rising Reader Book Awards is our most popular reading program with teachers, principals, parents, and of course, with the young honorees," said Karen Clawson, K is for Kids' founder and volunteer executive director. "It's so good knowing that the kids will enjoy reading their books over the summer, too."
As the foundation nears its 10th anniversary, Karen reflected on the remarkable growth the young organization has had. "This season we hit another new record in our community outreach thanks to our ambitious student leaders, their families, our board and advisory council members, and the foundation's impassioned supporters — the Schulze Family Foundation, Arthrex, Comcast, Barnes & Noble, GL Homes, and California Pizza Kitchen.
This year we also give special thanks to the family of author Dottie Withrow. Dottie passed away this past autumn and her family donated her beautiful books to K is for Kids so that we could get them into the hands of children who needed them most. It's a wonderful feeling knowing that Dottie's wonderful stories will be shared for generations to come."
With more than 30 schools benefiting from the foundation's Readers and Leaders program, the Boys & Girls Clubs (Collier County and Immokalee) received the largest grant award in 2016-17.
To learn more about K is for Kids' Readers and Leaders program, or the Rising Readers program, click here email Karen@kisforkids.org or call 239-596-KIDS(5437).
Special thanks go to our top supporters:
Ki s for Kids Foundation invites you to join us as we
Celebrate the Reading Achievements
of our Community's Children
Below are some of the testimonials and photographs testifying to the empowering impact K is for Kids Rising Reader Book Awards is having on their young honorees.
Avalon Elementary School
Jill Seitz, Media Specialist and K is for Kids Education Partner
"Summary of Rising Readers program — there are really so many facets to our recognition of readers!
What we do with our books from K is for Kids is to use them in two ways: One way, is when students read the Sunshine State books, they get a free book to keep as they read 6, 10 and all 15 books. They get 1 when they read 3 books, 2 free books when they read 10 and another book if they are among the few to read all 15. When kids read 10 SSYRA books, they get to come to our special ice cream party which has been funded by K is for Kids the past two years!
Also, K is for Kids supports our Reading Counts program: kids get a book when they reach Level 4. To keep things fair, Level 4 is a different number of points depending on the grade level. We supply different prizes for the different levels. The top twelve readers for Reading Counts have gone on a field trip to Barnes and Noble the past two years! The kids each received a gift card for shopping, then they were treated to lunch at California Pizza Kitchen! This was all funded by K is for Kids. Going to Waterside Shops was an extremely exciting experience for the students!
Another thing is at the end of the year, we give out book awards to the a selected student from each 5th grade class. These book awards were presented at the 5th grade Moving Up Ceremony."
Editor's Note: K is for Kids' Rising Readers program and its end of the year Rising Reader Book Awards not only encourage students to read more, but also helps teachers to recognize their reading achievements when they reach their goals. We do this by giving students the opportunity to earn and choose new books to take home and keep through schools' reading incentive programs.
————————
Eden Park Elementary School
Paul Ordetx, Media Specialist and K is for Kids Education Partner
Editor's Note: Eden Park became the focus school for K is for Kids' end-of-year Rising Reader Book Awards program in 2016-17. Golden Terrace Elementary has been a focus school for six years, and has reported remarkable success!
"With the K is for Kids reading [celebration] incentive and book giveaway for our Rising Readers, we have seen our circulation numbers up 50% and our number of Rising Readers has almost doubled this year. In schools like Eden Park where over 99% of the students are listed as economically disadvantaged, these are sometimes the only books these students have the opportunity to own. These students value and appreciate the opportunity to pick a book out and keep it, but it is even more amazing when you see these students sharing these books with their friends and siblings.
We are grateful for this partnership with K is for Kids, and we are excited to be given this great opportunity to become your focus school. This relationship will hopefully continue to motivate and build our students love for reading.
An example of the program's impact on individual students: Alexavier was a very rambunctious 1st grader, who had been making several trips to the office for behavior reasons.
Towards the end of 1st grade Alex began to read, and at the beginning of second grade we introduced him to our reading incentive program. As the year went on his proficiency in reading, and trips to the library increased.
This past year as a third grader he was a top student in Reading Counts, and his behavior has improved drastically.
I see Alexavier almost daily in the Media Center, checking-out new books and keeping me up-to-date on how many points he currently has. He is very proud of this accomplishment, and we are very proud of him.
At the end of the 2015-2016 school year Eden Park Elementary was able to honor our Rising Readers with new/current books that K for Kids had donated to our school.
The students were very excited to take home books, some who did not own any books at home.
Three brothers were so excited about what books they were able to pick. Ronnie, Pedro & Diego all made a plan to pick Diary of a Wimpy Kid books, for their book choice. They were able to get the first three books of the Diary of a Wimpy Kid series. By the end of the day they had shown and told every teacher at school and car ramp what books they had selected. These brothers were so excited to have new books to take home.
Without foundations like K is for Kids, these incentive programs would not be possible."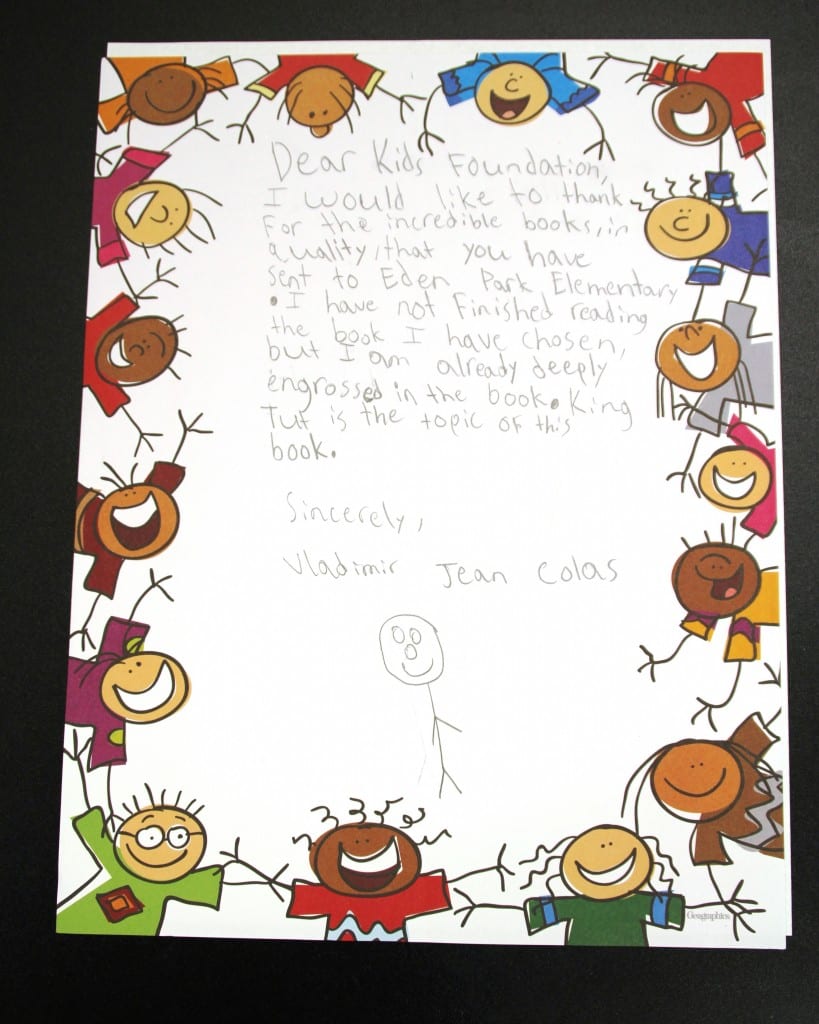 ————————
Estates Elementary School
Carole Mathy, Media Specialist and K is for Kids Education Partner
"Sunshine State Young Reader's award and Reading Counts help to teach our students perseverance and tenacity, as well increasing their reading levels. This is very important when it comes to end of year testing.
We appreciate K is for Kids for all the funding they have given our school in the past. Our students work hard towards being the Top Readers and reading the Sunshine State books in order to qualify for the [field] trip every year.
You help our students succeed!"
————————
Everglades City School
Melissa Owen, Media Specialist and K is for Kids Education Partner
"Thank you again for the incredible field trip! The shopping day at Barnes & Noble and lunch was an experience our students will never forget! It was the first time several of our students have ever been in a bookstore and purchased new books! Wow, I was brought to tears when one of the students used her funds to purchase books for her siblings! Thank you for making that event possible!
Everglades City School is very thankful for the support of K is for Kids. Your support directly affects our literacy program in the Media Center.
One of EVG's supplemental literacy programs is the Scholastic Reading Program. EVG's Media Specialist sets individual student and class goals for EVG!
The students and classes are given quarterly reading goals. In addition, to the homemade Reading Team shirts Mrs. Owen (EVG's Media Specialist) makes for the students as they meet their individual goals, the new books and Rising Reader field trip are the primary rewards for our students. EVG has been a Title One school and funds for incentives are extremely low. The K is for Kids books and Rising Reader grant enables EVG to celebrate the students' incredible literacy advancement!
This year, we are thrilled by the continued Scholastic Reading Counts program growth. Mrs. Owen documents the advancement each week when she meets with the students using the Reading Counts Program data of points earned and total words read! We are very proud that this year EVG has reached the highest total words read count ever! EVG will celebrate reaching 23,335,470 total words read this year!
That is a jump of over three million total words read from last year!
The students who actively earned Reading Counts points to make this possible will be rewarded with the new books provided by K is for Kids. Please see the attached photo of our first grade students with their new books!
We are so thankful for these new books to offer the students. They enable us the ability to provide much needed rewards and great summer reading for our students!
Thank you so much K is for Kids and all its' sponsors for making this possible at EVG!
————————
Golden Gate Elementary School
Kelly Knapke, Media Specialist and K is for Kids Education Partner
"Thank you so much to K is For Kids for our Book Awards! 10 of our Top Readers were able to go on a wonderful field trip to Barnes and Noble where they were able to select $25.00 worth of books to keep for their very own. They were so excited since many of them had never even been to Barnes and Noble before. A luncheon at California Pizza Kitchen was such a special treat for our Top Readers as well! They returned to school and shared their experience with their classmates. It was such a wonderful experience for our Top Readers! Many thanks to K is For Kids to allowing them this opportunity.
Results/Outcomes: The Top Readers read over 300,000 words and passed Reading Counts tests on those books over the course of the school year. One of the students actually read over 2,000,000 words. We shared the success on the morning news show with the entire school!! These students also received trophies for their accomplishments.
Impact on this school year: The impact from last school year has been inspiring to our students this year. Many students expressed that they would like to be able to attend the fieldtrip like last year! It really gave students something to work for and try to achieve. Some of our non- readers stepped up and read close to 100,000 words. Woo Hoo!!!!"
————————
Editor's Note: In the autumn of 2011,inspired by the efforts of media specialists like Tiffany "TJ" Weeks to fuel children's passion for reading and to give them the critical tool of literacy to help them succeed academically, Karen Clawson created K is for Kids' Rising Reader and end-of-year Top Rising Reader Book Awards program. Golden Terrace Elementary became the first focus school for the program and quickly proved what an remarkable impact it was having on students — some students started the school year barely speaking English, only to rise to be champion readers by the end.
Golden Terrace Elementary School – Intermediate 3-5 grades
"When I came into this position six years ago…partnering with you and kicking off the reading programs and becoming your focus school made all the difference in the world because for the past five years you and I have been on this journey together, learning from each other about how we can motivate these kids and make them great readers.
I can't even imagine the last five years without you and the K is for Kids program and being the focus school because you have taught me so much, and motivated me to motivate them!
We have two different programs. We have our Rising Readers program, which is done through the Reading Counts… and the kids earn free books and different awards, and those are books that come from K is for Kids.
And then we also have our Sunshine State Readers…that program is also funded from you, and you help us organize the field trip [to Barnes & Noble and California Pizza Kitchen].
We actually do raffles also — when the kids pass the Reading Counts challenge on the book that they've read, they get a little ticket, and each Friday I pull anywhere from three to six, one or two per grade level, and then those kids get to come down and pick a book off the Rising Readers bookshelf also.
So the kids get their hands on a lot of books thanks to K is for Kids. And again, that's why I can't even imagine what it would be like, because I wouldn't be able to reward these students the way that I have for being such self-motivated readers – if it wasn't for the books that K is for Kids helps me obtain and provide to them."
———————–
Golden Terrace Elementary School – Primary K-2 grades
Joyce Cordell, Media Specialist and K is for Kids Education Partner
"Thanks to K is for Kids, we just hosted a wonderful end of the year reading celebration for 53 deserving students at Golden Terrace Primary. I can hardly describe the excitement (and the noise level) permeating from the library! Students were thrilled to receive the books they shopped for at our book fair and ordered through Barnes and Noble. This was such a unique and awesome experience for our students to be able to choose books they wanted to own. It also gave me the opportunity to talk about books, genres, and characters, etc. one on one with some of our best reading students.
My goal is to fill the library with books students want to check out and read so this gives me great insight on what types of books to order. As a matter of fact, our circulation has increased each year that I have been here! We are up by 6000 books in 5 years! A lot of that is due to having that support from K is for Kids. They provide us with the free books to give to students as reading incentives. Not only do I see what they want to read, earning book rewards encourages more reading.
Now for an update on some specific data on our primary students. They have earned a whopping 10,260 Reading Counts points this year! Not only are students passing over 85% of quizzes, the average Lexile level is within grade level range. A big part of their excitement and success this year is our incentive program. Books, donated from K is for Kids, by far, are their favorite incentive.
So many of the kids have just taken off this year! One student who struggled with reading in first grade was promoted with remediation to 2nd. At the beginning of this year he got going on Reading Counts and has just soared! He is not only reading at grade level, he is excited about reading and earned enough points to come to the EOY party! Another student who came from Cuba last year in first grade spoke no English. Not only did he have to learn English, but this year in second grade he earned well over 200 Reading Counts Points!
Again, having the recognition program and incentives has made all the difference. Teachers are also seeing the difference and are much more supportive and involved. A second grade teacher told us that she believes that the growth her students achieved in reading this year was a direct result of Reading Counts!
Thank you for making this and our RAD incentive program possible! We are so grateful to have been the focus school for the past five years. As you can see the amazing support we receive from K is for Kids has made a huge difference for our students."
————————
Highlands Elementary School
Pete Cade, Media Specialist and K is for Kids Education Partner
Top Rising Readers 2017 from Highlands Elementary School receive a bundle of books to take home and enjoy over the summer through K is for Kids Book Awards program.
————————
Lely Elementary School
Miffy Ruggiero, Media Specialist and K is for Kids Education Partner
Each year, teachers nominate a student to be honored at a special "Gains and Grains" Breakfast. Books are donated by K is for Kids.
————————
Laurel Oak Elementary School where K is for Kids roots were laid with the first Bring a Book, Bring a Friend Fun'raiser in 2002-03!
Lori Myers, Media Specialist and K is for Kids Education Partner
————————
Manatee Elementary School
Susan Pratt, Media Specialist and K is for Kids Education Partner
"K is for Kids Foundation's Rising Reader program has been an invaluable support to the students at Manatee Elementary School. [This year] we were able to recognize over sixty of our most accomplished K-5 readers. Recipients were selected based on meeting or exceeding their Reading Counts goals. This year one of our fifth graders, Monica, earned over 2,000 RC points! As a 3rd grader, she was an extremely reluctant and below level reader.
Book donations and recognitions from the K is for Kids Foundation has been positively pivotal in this young lady's life! In fourth grade Monica complete all fifteen of the SSYRA titles and was the top RC point earner in our school. This year she had all fifteen of the SSYRA books read before the end of the first marking period and challenged other students to do the same. Monica will be starting middle school with a very firm academic foundation and her future looks bright! Not only is Monica very well read but she is also a confident and goal oriented young lady with tremendous leadership potential.
————————
Manatee Middle School
Robert Wind, Media Specialist and K is for Kids Education Partner

————————
Oakridge Middle School
Theresa Ferreira, Media Specialist and K is for Kids Education Partner
————————
Pinecrest Elementary School
Kris Blasucci, Media Specialist and K is for Kids Education Partner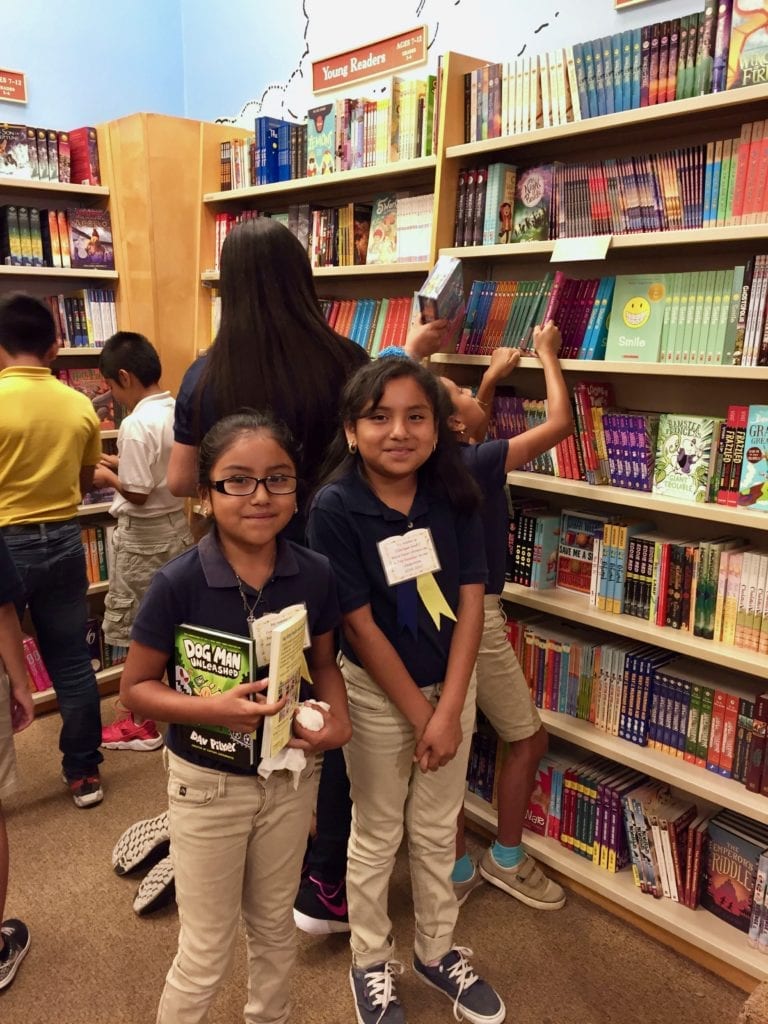 "Pinecrest is the school home for over 760 students. Of our children, 100% live at or below the poverty level. Our students struggle with reading proficiency as they acquire English. Through K is for Kids we were not only able to provide our students with beautiful books to call their own, but we were also able to make available a wonderful field trip into Naples. Most of our kids don't leave Immokalee unless they are migrating north for the summer. Providing them with a day of shopping at Barnes & Noble along with lunch in a restaurant is a "first" for most of our students. K is for Kids allowed us to not only promote reading and celebrate our student's accomplishments but it provided great material for our kids to have for summer reading. We were able to inspire students from kinder to fifth grade the importance of setting goals and working hard to achieve them. The smiles on their faces all day were amazing.
Thank you K is for Kids for helping our Eagles soar for the day."
————————
Pine Ridge Middle School
Beth Lindenmeyer, Media Specialist and K is for Kids Education Partner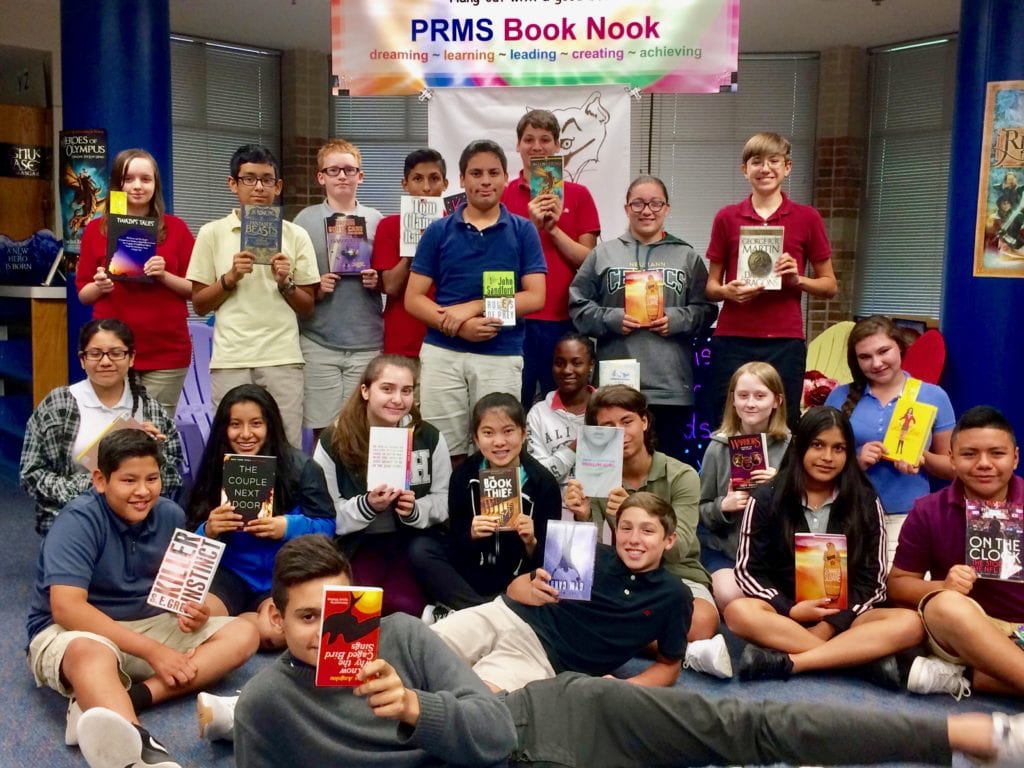 ————————
Poinciana Elementary School
Kristi Humberger, Media Specialist and K is for Kids Education Partner
————————
Village Oaks Elementary School
Megan Barr, Media Specialist and K is for Kids Education Partner
We have a fifth grade student whose behavior was difficult in fourth grade, to say the least. With the help of her Reading teacher, we pushed this girl to find books that she enjoyed reading, and throughout the year, her behavior improved dramatically, and her Lexile level jumped almost 300 points! She became one of the top 10 points earners in her grade, and has developed a love for reading.
K is for Kids is instrumental in providing quality books for students in our primary grades. Our kindergarten students who have met their reading goal for all four quarters are invited to a special celebration at the end of the year, where they get to watch a movie and pick out their own book to take home, courtesy of K is for Kids. Many of these students don't get the opportunity to go to the library over the summer months, and the fact that they get to pick out their own book to keep forever is something they truly treasure. The look on their faces when they get to choose their book reinforces how grateful I am to K is for Kids for this opportunity.