A Note from Jordan
On November 13th, a Team of St. John Neumann Students Visited Brightest Horizons for Special Storytime and Book Giveaway
Click here to see video of the exciting event by Ryan Fricke, a senior at Florida Gulf Coast University majoring in journalism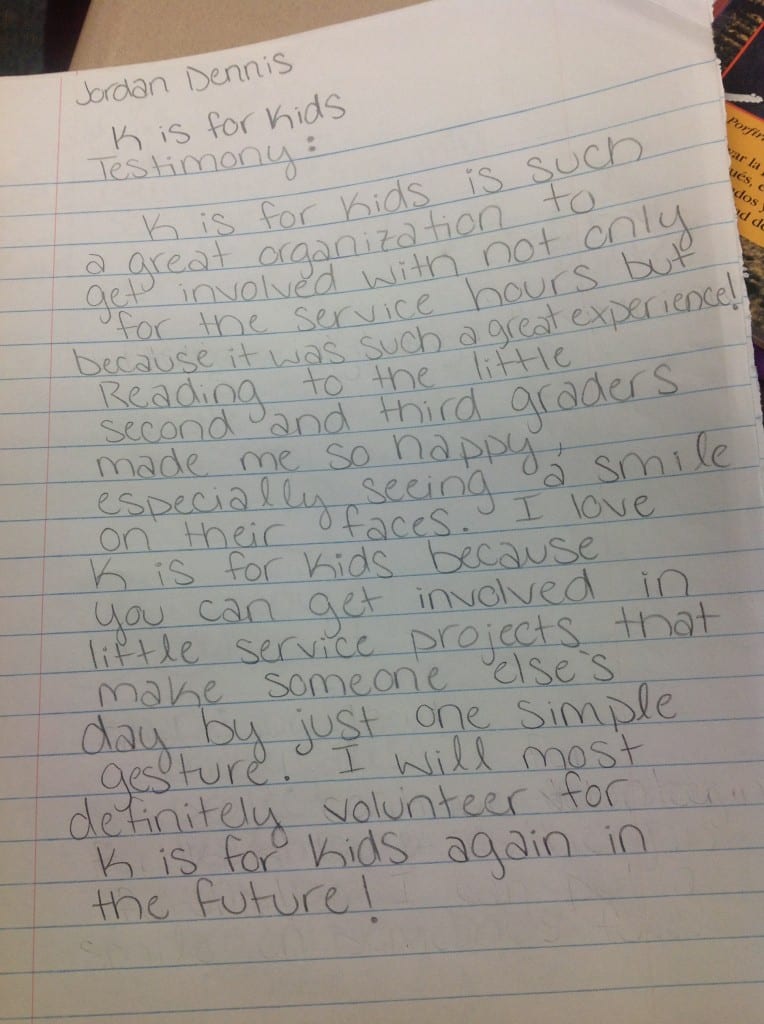 Teacher Shares Students' Feedback, Ends with Message for Them
The feedback that I have received from students involved with K is for Kids has been awesome. Planning an event from start to finish is a huge under taking. Students that get involved have the opportunity to develop skills that will benefit them for the rest of their life. Being a responsible person is an important life skill. This event will give kids the chance to prove that they can be assigned a task and see it through to the end. Being a part of something that gives back shows great character in a person. Every role is an important one because without each piece of the puzzle being put in its place the show wouldn't go on.
K is for Kids gives you the opportunity to be a LEADER! Make the most of the experience. Kelly Wilson BCHS Business Department Shown at right: Kelly Wilson receives K is for Kids' Shining Star Award 2012 at the From the Heart Teen Fashion Festival in recognition of her volunteer service as teacher liaison for the innovative student-run fashion show promoting literacy and leadership. Sponsored by K is for Kids and Barron Collier High School, the fun'raiser draws students from all over Collier and south Lee Counties.  Kelly is widely known for her tireless commitment to her students – in addition to a full teaching schedule, she is the teacher representative for several after school programs as well.
_____________________________________________
Facebook Fan cheers our efforts
Karen D. Clawson who was recognized as a PBS "Maker" for our area of USA, which is SW Florida… down in the Everglades… also referred to as Naples Fl , created this awesome program for developing children in the right way !!

Making reading Fun !! and participating in it with their Whole Selves for Expression. Karen having grown up in a the world of publishing and printing was surprised when her kids started the local public schools [and needed new] books in the libraries…

Karen went about fixing this problem and working to get people to donate books to the public school libraries etc. Then HOW to Make Reading Fun in a land with Media dominating… and kids memorized by TV and now of course computer games etc… Her foundation K is for Kids blossomed…

Karen has done a awesome job in building this….I have watched her nurture this foundation into exponential growth matching up college students, high school students with engaging the young kids…all learning from each other !! Paying it forward is so rare today, especially [with] such personal involvement [that] K is for Kids shows clearly.
_____________________________________________
FGCU Student Volunteers
Volunteering for K is for Kids was a blast. We went to Brightest Horizons to read to the kids as well as donate books. That was my first time really interacting with kids on that level where they would come up to you and ask if you could read them a book. It was all a new experience for me and it couldn't have gone any better than it did. I think there should be more organizations like K is for Kids. The joy that the kids had when they received the books was more than anyone can ask for. I honestly enjoyed my time volunteering at K is for Kids and I would have to say that the highlight of it all was being able to talk to the kids and just interacting with them. -Leonardo Garcia
Working with K is for Kids was a good experience. One of the events that I participated in with K is for Kids was going to Brightest Horizons and spending a few hours with the children there. It was very enjoyable. The children were a delight and Mrs. Clawson was very supportive. Being there and seeing what K is for Kids does for kids was a unique experience. Simply giving a child a book made them so happy. Working with K is for Kids for the past 5 weeks has been a very beneficial experience. K is for Kids is a wonderful organization with a noble cause. – Jessica Diaz
_____________________________________________
Lake Trafford Elementary, Immokalee
Karen: Thank you for your support with the books. The kids really enjoyed them!

Daniel A. Perez Media Specialist & BTC Lake Trafford Elementary _________________________________ Lely Elementary
Karen, as our school year comes to a close, I just wanted to say THANK YOU! We were able to send a book home with each student for summer reading! This would NOT have been possible without your efforts and dedication to all of the kids in Naples!! It was great meeting you and visiting the warehouse for the "goods"! Enjoy some great reads this summer and I'm hopeful our paths will cross again soon. Gratefully, Miffy Ruggiero Media Specialist Lely Elementary
_____________________________________________
Village Oaks Elementary, Immokalee
We are honoring all primary grade students who met their reading goal this quarter. Students attended a carnival and received a free book thanks to you. You rock! Have an awesome summer! Shirley Rainwaters, Ed. S. VOE Media Specialist
Read as if the text is gold, read with heart & soul. —Lucy Calkins Photos by Ruth Conly
Golden Terrace Elementary Primary
May 29, 2013 Hi Karen! These are pics from our TOP READER celebration last week. Each teacher chose their highest reading student to participate. We sent out 32 invitations-one for each k, 1, and 2nd grade class. We had treats, certificates, a bookmark making station, and of course books! Each child received two books and as you can see from the pictures, they were thrilled!! Thank you for providing us the means to celebrate our highest achieving students! Joyce Cordell Media GTE
_____________________________________________
Golden Gate High
May 31, 2013
Dear K is for Kids, Thank you so much for providing my school with new books. I chose the book Matched by Allie Condie and it exceeded my expectations. The mix between action and romance was perfect. I found myself lost in the book to the point where I thought I was trapped in the protagonist's totalitarian society myself. It not only entertained me, but also provided me with the opportunity make connections in my AICE International History class about how the book's government is to similar totalitarian countries that exist in real life. The book was so amazing that I had recommended and pass it on to pass it on to my friend, Yolna, who at this point, is enjoying it herself. I am now hooked on the "Matched" trilogy and can't wait to get the next book. Once again, I thank you for donating books to Golden Gate High School. I truly appreciate it! Sincerely, Thanise
_____________________________________________
Public Relations & Communications Consultant
Karen Clawson is a dynamo, whose unflagging commitment to the cause of delivering books to children in extra-traditional reading spaces through the efforts of a teen volunteer program is clearly obvious.

Having created the non-profit foundation, K is for Kids, for this purpose, Karen has made her mark on the community by mobilizing kids, creativity and connections to build an army of volunteers and donors. Her ability to multi-task is a phenomenon rarely seen; Karen is known for nothing, if not her energy, enthusiasm and devotion to instilling literacy wherever and whenever possible.
Recommendation posted on Linkedin May 13, 2013
_____________________________________________
Golden Terrace Elementary Primary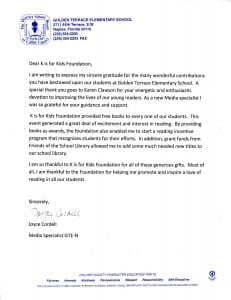 April 5, 2013
Dear K is for Kids Foundation,
I am writing to express my sincere gratitude for the many wonderful contributions you have bestowed upon our students at Golden Terrace Elementary School. A special thank you goes to Karen Clawson for your energetic and enthusiastic devotion to improving the lives of our young readers. As a new Media Specialist I was so grateful for your guidance and support.
K is for Kids Foundation provided free books to every one of our students. This event generated a great deal of excitement and interest in reading. [Editor's note: Read how our Rising Readers program treated students to a "Big Book Giveaway".] By providing books as awards, the Foundation also enabled me to start a reading incentive program that recognizes students for their efforts. In addition, grant funds from Friends of the school Library allowed me to add some much needed new titles to our school library.
I am so thankful to K is for Kids Foundation for all of these generous gifts. Most of all, I am thankful to the Foundation for helping me promote and inspire a love of reading in all our students.
Sincerely,
Joyce Cordell
Media Specialists GTE-N [Primary]
________________________________________________________________
Manatee Elementary School
April 3, 2013 Greetings!
First graders are thrilled with our Golden Books as the looks on their faces show. We, at MES, are interested in receiving more Golden Books if possible. The students love them! Your generosity is overwhelming and we appreciate the wonderful books we receive from you.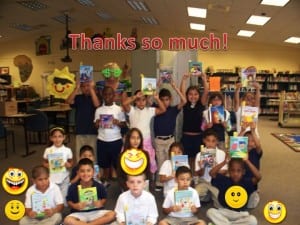 We used golden tickets as bookmarks. What a treat! See you soon. ML Bryan MES Media Specialist ________________________________________________________________
Manatee Middle School
March 4, 2013 Thank you, thank you, THANK YOU to Karen Clawson for her hard work resulting in a generous donation of books to the Manatee Middle School Media Center. I have so many students who are eager to read the books she has raised for our library, and I can't wait to share the photos of their smiling faces when they check them out! Much appreciation for Karen Clawson and all her magnificent efforts to support kids in need of books! Sincerely, Kathleen Dougherty Manatee Middle School ________________________________________________________________
Student Intern & K is for Kids Spokesperson, Florida Gulf Coast University
February 18, 2013 "If you can change a chapter in your life what would it be?" "Nothing because my life is an endless story & there's more chapters to unfold" This year definitely made me take chances, dream bigger, and achieve more. Especially, making big decisions with opportunities I've been given. It has been a blessing to work for K is for Kids, serving as their spokesperson as well as interning and working directly with children and inspiring them to become better leaders, & I would like to thank Karen D. Clawson for giving me these wonderful opportunities to showcase my talents and abilities and helping me further my knowledge in the business world
The primary goal to inspire others through the power of reading and books took me back to my childhood and what I've wanted out of life. & it's Simply Amazing ♥ #goKisForKids #memories4life #dream #makeithappen —————- Brigitte Papica, K is for Kids spokesperson and FGCU intern, winter 2013 (facebook post) and below, post on WGCU MAKERS: Women who make Southwest Florida, http://news.wgcu.org/post/karen-clawson I am so glad to have interned for K is for Kids and be able to walk away with a great deal of knowledge working in the business aspect as the learning experience through this internship
I have learned numerous set of skills including working under pressure and being cautious of deadlines and ensuring that projects are met to the best of my ability. This internship has allowed me to reach my primary goal of becoming a better leader as well as allowing me to have met such a wonderful mentor such as Mrs. Karen Clawson. She has given me the opportunity to figure out my strengths and weaknesses and has helped me develop and broaden those skills especially in communications. One of the main thing we learn in my public relations courses at Florida Gulf Coast University major is how to ensure that we communicate our ideas effectively. I have experienced and have learned firsthand about the importance of paying attention to details and how to identify and manage the different needs of the groups and/ or certain individuals that may need extra help. Working within deadlines have allowed me to realize just how much I love my major and just how much I grew from this internship experience.
When I was asked if I wanted to be a spokesperson and appear on television for Fox Morning Blend, I was very hesitant at first and did not realize of my potential. With the show and just preparing for the big day at Fox, I have been able to speak with confidence and create memories working for this nonprofit organization.
The best memory I have with working with K is for Kids aside from working closely with Mrs. Clawson and the student teens is the opportunity I had the day we visited Golden Terrace Elementary. Seeing the children's faces lit up each time their teacher walked them to the bookmobile was just amazing to see and was unforgettable. I truly believe in the power of books and the knowledge and excitement it gives to a child each time they open one up. There was not one kid who was not satisfied that day because all of them got to keep a book to take home and share with their families. I was asked by one of the students on what I do as an intern and how college is and I can honestly say my heart melted hearing that question.
I know as a communication major, one of the reasons why I decided to be in this field is to be able to share my experiences with others as well as tell my stories in order to inspire and motivate each individual to do more and to always remember that "nothing is impossible." K is for Kids is one of the best non-profit organizations I've grown to love working with and I wish that others will get the chance to intern or even just volunteer for this organization as it is a teen volunteer driven organization that works for the kids and by the kids. There is never a day without books, reading, and leaders that make it all happen for this organization and I am really glad I was a part of this growing nonprofit. _______________________________________________________________
Golden Terrace Elementary Intermediate
Tiffany Weeks, Naples Media Specialist, Golden Terrace Elementary Letter to the Editor of the Naples Daily News published January 31, 2013 [photos added here] Read all about it On Jan. 17 and 18, Golden Terrace Elementary celebrated literacy week with a very special event. [Editor's note: The event also celebrated the launch of K is for Kids' "Bring a Book, Bring a Friend for Children's Literacy Month in Collier County as well.] K is for Kids Foundation sponsored a "Big Book Giveaway" for our students, bringing in over 7,000 books to our school with the help of a huge tractor-trailer truck, the Big Rig Bookmobile.
Each student signed a reading pledge, promising to read every day. Then they were allowed to board the big rig and choose a book of their very own from shelves of donated books. About 1,000 books valued at $5,000 were given away.
Being able to climb aboard the bookmobile and hear the Big Rig toot its impressive horn and choose a book to keep provided memories that will stay with these children for the rest of their lives! Karen Clawson of K is for Kids and her teen volunteers worked countless hours collecting and sorting the donated books for this event. Brigitte Papica and Gavin Vary, Florida Gulf Coast University interns for K is for Kids, helped students. John and Kathy Gervase prepared their big rig and rolled it into town to help K is for Kids launch its own literacy month this February. On behalf of the students and staff at Golden Terrace, I would like to give a big thank you to all those who helped make this event possible! K is for Kids has been supporting literacy initiatives at GTE for the last few years through its Rising Readers and Friends of the School Library programs. We are so very grateful! Please visit the K is for Kids website to learn more about this fabulous organization at http://www.kisforkids.org/ _______________________________________________________________
FGCU Student Volunteer
November 30, 2012 To the amazing Karen Clawson,
I want to thank you so much for such a successful semester. I enjoyed every moment I spent with you on our Civic Engagement Project. You provided us with such great leadership and support that made this project so much fun. You are such a wonderful individual and leader in the community and I appreciate all of your time and effort you put into this project. I have always been afraid of being in front of the camera but you brought out another confident side in me and I cannot thank you enough. Please let me know about events in the future that you would like my help with. I am so blessed to have met you. Thank you so much, Megan Van Etten —— RE: FGCU Volunteers Visit Children at RCMA http://www.kisforkids.org/news/fgcu-volunteers-make-young-friends-at-rcma/ October 18, 2012 Hi Karen, The pictures are adorable and I really enjoyed myself yesterday! The kids are such shining stars and put an instant smile on my face. It was great! Please let me know of any other volunteer opportunities such like this because I really enjoyed it! Thank you so much, Megan Post script October 24th ——————————— Hi Mrs. Clawson, I just want to thank you for all of your help today. I really appreciate your letting us use your computer and wonderful knowledge to create amazing videos fro children and our careers. You are such a kind, generous lady and I feel so blessed to be working with you and K is for Kids on this Civic Engagement project. Sylvie, John, and I really appreciate all of your guidance with this project and we look forward to working with you more in the next few weeks. Thank you so much and I am so glad we chose to work with K is for Kids
Thank you, Megan _____________________________________________________________
Brightest Horizons Child Development Center
We are so thankful to Mrs. Karen and all the caring volunteers at K is for Kids for selecting the children at Brightest Horizons to receive all sorts of books to take home! Brightest Horizons also received a gift certificate to Barnes & Noble for more educational items! We Love K is for Kids! — at Brightest Horizons Child Development Center.
_____________________________________________________________
Author
October 7, 2012 Karen, I have been reflecting on my many observations over the years. I am not sure that there has been anyone as dedicated as you in improving the lives of so many. K is for Kids is making it a better world, with benefits that will never end.
The time and financial support that has been possible with the support of Pat, Erin and Patrick [your family] and your effort cannot be measured. And your concern and support of others…can never be repaid. Thank you and may God continue to bless you and your family. Stay safe, Robert Dean Bair, author of Cloisters of Canterbury and Peace at Lambeth Bridge ____________________________________________________________
Immokalee High School
Dazra McDonald, 9th Grade English, Immokalee High School, selected books for her own "book giveaway" so her students would have new books to read over the summer. August 20, 2012 The book giveaway went awesome!! I had about 7 books left. I've added those books to my class library!! Thanks so much again…. I love what you're doing for kids.
Sharing the wealth of reading: Our 2012 "Big Book Giveaway" was an unprecedented event for Collier County educators and students, thanks to the 10,000-book donation from the Book Warehouse upon its closing, rooms donated by Cypress Self Storage, bookshelves donated by Target-Collier and Lee Counties, Northside Naples Kiwanis Club, AMI Kids-Ft. Myers, Best Buy and its Tag Team, K is for Kids' teen leaders, Publix, Barnes & Nobles Booksellers and Trader Joe's.
_____________________________________________________________
Student Leader & K is for Kids Spokesperson,
Gulf Coast High School
Matthew Colligan, one of K is for Kids' top teen leaders 2009-12, was amongst our first "class" of graduating seniors. Matthew graduated Valedictorian, Class of 2012 at Gulf Coast High School and will be attending University of Pennsylvania this fall. Congratulations, Matthew! January 5, 2012 When I first got involved with K is for Kids Foundation, I looked at it as an easy way to get my volunteer hours out of the way. I soon realized that this experience would benefit me in so many ways and give me skills I can use for the rest of my life. What I liked most about volunteering for K is for Kids is how it allowed me to understand different components of running a business…. I realized the importance of communicating with everyone and publicizing events…. It was amazing to see how much this organization grew during the time I was involved, and this showed me that when you persevere, you can take small ideas a long way. K is for Kids was an invaluable experience for me, and I hope that many more teens are able to have the same experience as I had as the foundation continues to grow and bring awareness to a great cause.
To see the video of the Gulf Coast High School Sharks Football Players for younger students and other videos by our teen spokespersons, click here: http://www.kisforkids.org/photos-videos/ or view them on YouTube: http://www.naplesnews.com/news/2011/nov/08/gchs-sharks-football-players-team-up-with-tv-produ/
_______________________________________________________________________________  
Mantee Elementary
Hip! Hip! Hooray! We're off to wonderful reading places In our hearts K is for Kids Foundation will stay! We love our books and treat them nice Books that give us information and sizzle with spice. Our thanks we send and warm wishes too For all the folks who made our dreams come true! With books! Lots of books! Wonderful books! I couldn't resist writing a poem in the spirit of Dr. Seuss! We treasure our new books and our excitement grows more and more each day. Thanks again. Mary L. Bryan Media Specialist, Manatee Elementary South _______________________________________________________________
Golden Gate Elementary
April 4, 2012
Thank you for the book opportunities that you have delivered to the schools of Collier County. Also thank you for the surprise of the TRADER JOE raffle bag of delicious goodies that I was most fortunate to win. My husband and I are enjoying all of the treats! Happy Springtime and again many thanks for recognizing the job that we do as Library Media Specialists and encouraging all kids to read! Marcia Kolmann, Media Specialist, Golden Gate Elementary
Listen to what other educators had to say by clicking on link below, "Big Book Giveaway: Teachers Shop for Free Books for Students"
http://youtu.be/wCoVWdrJ8IM
____________________________________________________________
Farm Worker Village, Collier County Housing Authority
February 22, 2012 Dear Karen: We cannot even begin to express how appreciative we are of you and the tremendous amount of work and effort that you and your organization put in helping made the reading event at Farm Worker Village spectacular.
The authors were great in sharing their stories and as seen through the laughter,comments and pictures afterwards, everyone, children and parents alike, were having so much fun. We are so appreciative of others, like yourself, who share the same belief that exposure to books and the love of reading will help these children be more successful in school and will make such an impact that it will break the cycle of illiteracy in generations to come. We look forward to continuing to partner with K is for Kids Foundation at future events and bringing the love of reading to children. Sincerely, Esmeralda Serrata, PHM Executive Director, Collier County Housing Authority ________________________________________________________________
Village Oaks Elementary
SAND DOLLAR EARNED IN NAPLES DAILY NEWS — Link here to read it on naplesnews.com http://www.naplesnews.com/news/2011/dec/24/no-headline—nuts_and_stars_edits/
LETTER TO THE EDITOR, NAPLES DAILY NEWS 3D Read Aloud – Mission Completed! December 1, 2011 Village Oaks Elementary, Immokalee Through the K is for Kids foundation "Rising Readers" program, the entire second grade at Village Oaks Elementary were able to enjoy a 3D read aloud with Library Media Specialist, Stephanie Griffin. Each second grade child received their own 3D book, which included two pairs of cool blue character 3D glasses.
Students were rewarded for their "pawsome" success in the new independent reading program Reading Counts. Teachers have established goals and the students have been working hard this second quarter on reading and achieving. Mrs. Griffin gathered four second grade classes with a total of seventy-seven students in the media center to celebrate their accomplishments. She praised them for their hard work and dedication to being top readers, then discussed the importance of reading and the ultimate benefits as long-life readers. Before reading the book, she asked her young enthusiastic audience "What does 3D mean?" and up went a few hands. One little girl called out, "Three dimensional!" Mrs. Griffin replied "That's right and how very smart you are!" She then continued reading aloud the 3D book to the students while discussing the visual elements of a three dimensional book and its special effects. The students were engaged while she read and very excited. After the event the students practiced their writing skills by writing thank you letters to the Foundation. "K is for Kids has allowed the opportunity to touch seventy-seven children and beyond. Each has made a pledge to continue reading and sharing their books with family and friends," said Mrs. Griffin. "Students still continue to come into the media center and tell me how much they enjoyed the read aloud and 3D book." Mrs. Griffin continued to say that she feels this type of reward and celebration will last a lifetime and will be one that the children will not forget. Mrs. Griffin says that she and Karen Clawson, Founder & Executive Director of K is for Kids, share the same feelings: "We are both are very passionate about instilling the love of reading in our young children and allowing the opportunity to have new books in their hands." She went on to add "Every day I am able to touch the lives and hearts of children through books. That's the most moving and exciting part of my job." Mrs. Griffin concluded by saying she believes K is for Kids is a wonderful organization that truly cares about our communities and literacy. ________________________________________________________________
K is for Kids Student Leader, Gulf Coast High School
Teen Testimonial, November 2010
[I'm] thanking you for this incredible experience and for directing such a great foundation.
It was very fun! Can't wait until the next event!! -Heidi
Note: Heidi has served on the Teen Advisory Team from 2010-12.
---
Young Author Parent
Elizabeth Stone, March 2010 "I wanted to tell you how impressed I was with the teenagers who were volunteering at your "Kids Celebrate Reading!" Book Fair at Barnes & Noble – there were so polite and patient with the children while they were having their face painted and writing stories. They were an interesting group to speak with and everything. They just seemed to be really focused on their purpose for being there. What a great job they did! The staff in the store were very polite and reception to our presence in the store and very accommodating. I was so pleased my daughters were able to get their photo taken for your young authors books and that my oldest daughter got a chance to write a story." Elizabeth Stone, March 2010
---
Robert Dean Blair Guest Author at Bring a Book, Bring a Friend® Fun'raiser benefiting the Village School, Spring 2006 Karen, It was so nice seeing you and being exposed to the passion that you have for children's need for books. So many give lip service, but you are actually contributing to children that you will never know. God bless. Looking forward to your big event in September…. God bless, Bob
---
Facebook Fan
Mary Will Gross on Facebook Mary wrote: "I am excited for you. I know it will be a great success for you this weekend…. You are a wonderful woman to work so smart to help the kids. I am impressed with your skills to help in public education for all. Blessings, Mary Gros"
---
Young Author Parent
Comment on news item Dear Karen, My daughter and I participated in your wonderful event last year at Barnes and Noble and are interested in the book she had written a page. This was great fun for all!!! I was so thrilled to donate all our books that we have outgrown to such a wonderful organization. Liza Buffington Smith In March 2012, Liza added, "Aidan received a '6′ on her essay for Collier Writes, the highest score possible! I attribute her love of writing stories to being in your Young Authors book."
---
Immokolee Housing & Family
Hello Mrs. Clawson, Thank you SO MUCH for the books. The children are very excited. Please let me know what I can do for you as we continue our new friendship. Take care, Thanks again! Lynn Bowen
---
Fun Time Early Learning Academy
Hi Karen,
I saw these online. What darling photos. Thanks so much for taking care of our children. They do love their books. Your teens were patient and nurturing to the children. A great time for all alike and books to last forever. You are dear! Franny   Click on the photos by Lexey Swall to see at naplesnews.com  
---
Lake Trafford Elementary & Manatee Elementary
A letter from Linda Pattyson, then media specialist at Lake Trafford Elementary School in Immokalee, was published in the Naples Daily News, Perspective section. Photo by Sheila Collins, media specialist, Manatee Elementary School of young students getting their first glimpse of their new books from K is for Kids Foundation.