Summer Book Drive 2017:
Teens, if you're looking to knock out community service hours this summer, this is your chance to take on a leadership role while helping the children of your community!
K is for Kids student leaders are collecting new and like new books so children in need may have new stories to inspire them during these long hot days of summer. The Foundation is also collecting money to buy new books.
K is for Kids student volunteers will be distributing the books for children to take home and keep, and also donating a percentage to help boost the inventory of other nonprofits' shared reading environments.
K is for Kids offers exciting opportunities for students to earn community service hours, boost resumes, build portfolios and apply leadership and communication skills outside of the classroom in a real world setting — all while helping kids of all ages have the tools they need to succeed in school and in life!
Email Karen@kisforkids.org to donate YOUR unique skills and talents to K is for Kids!
——-
Thank you to the 130 students who helped the 6th Annual K is for Kids' Teen Fashion Show 2017 another great success!!
———-
---
LAST YEAR'S Teen Fashion Show 2016 VIDEO & PSA AIRED ON T.V.:
All students who participate and/or attend event
may earn community service.
(FGCU students earn service learning hours.)
CALL 239-596-KIDS (5437) OR TEXT 239-595-0077 (Be sure to introduce yourself!)
Final Run-Through Rehearsal FRI. FEB 5th
5:00-8:00 pm
BARRON COLLIER HIGH SCHOOL AUDITORIUM
5600 COUGAR DRIVE, NAPLES
---
5th Annual K is for Kids "From the Heart"
Teen Fashion Show 2016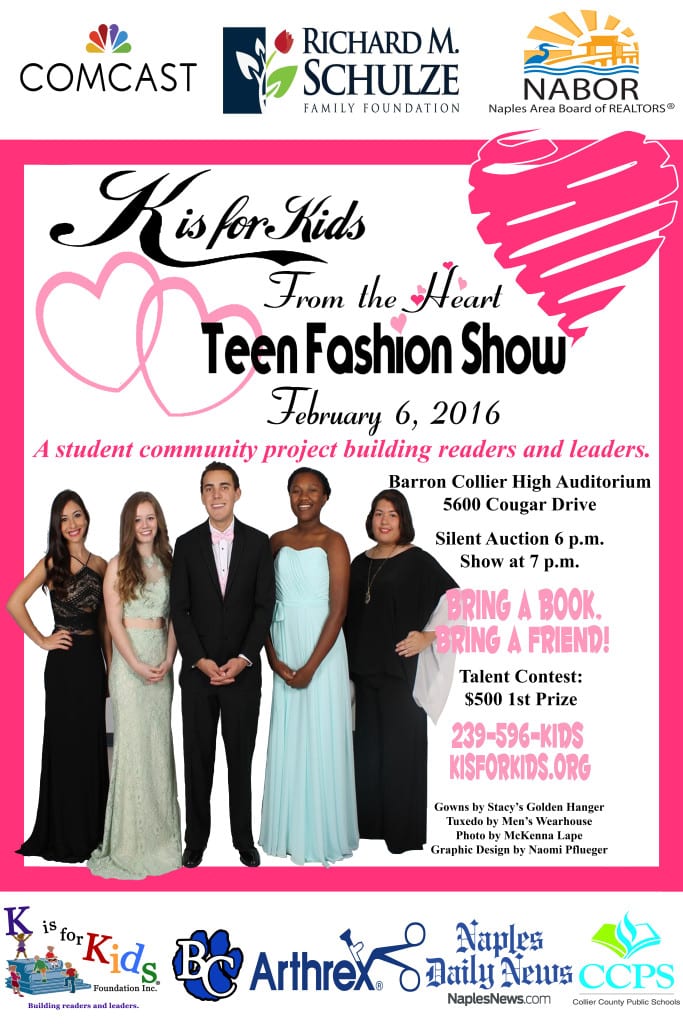 ——————————————-
Blasts from the Past:
———-
3rd Annual K is for Kids Annual Holiday Book Giveaway
at the Boys & Girls Club of Collier County
Student Leaders from Operation:Outreach shared the wealth of reading with youngsters at the Boys & Girls Club!
Thank you to all the students who volunteered to make this such a success!
———————————————
High School students may sign up for
Leadership Workshops
sponsored by
K is for Kids & Operation:Outreach
SESSIONS ARE COMPLIMENTARY AND GEARED FOR STUDENTS
WHO WANT TO STRENGTHEN THEIR COMMUNICATION & LEADERSHIP SKILLS
EMAIL KAREN@KISFORKIDS.ORG
OR CALL 239-596-KIDS (5437) / TEXT 239-595-0077
———————————————
Operation:Outreach
A ladder for leaders initiative on high school campuses.
"CLIMB HIGHER. HELP OTHERS."
LEAVE A LEGACY
before you even graduate from high school.
———————————————
Here are the ways you may donate your time & talents to our cause –
College Stu
dent Advisory Council
K is for Kids' high school student leaders continue to serve in advisory roles for the foundation's teen leaders, a testament to their passion for helping other students succeed in school and in life. CSAC members represent universities in growing numbers across the States. The students may also serve in internships with the foundation. Continuing to create innovative student leadership programs, in 2013, Florida Gulf Coast University interns launched K is for Kids' first "executive" student business management team.
DOSA-Directorate of Student Agenda
In 2013-14, four top student leaders revived the Teen Advisory Team and Council under the new name DOSA-Directorate of Student Agenda. Representatives from local high schools serve as spokespersons in internship roles while governing the mission and activities of all teen leaders and volunteers. DOSA members also serve as the event co-chairs for their signature event, February's From the Heart Teen Fashion Show. The countywide community student charity event engages students in reading and leading and draws children from 4 years of age through college.
Opera
tion: Outreach (O2) – A Ladder for Leaders
"Climb Higher. Help Others"
Our student leaders never cease to amaze us – in 2013-14 they launched Operation: Outreach at local high schools with the mission to create a "Ladder for Leaders" for other students. This youth leadership program guides students in creating and managing projects utilizing entrepreneurial principles. With their motto to "Climb Higher. Help Others", as O2 leaders near graduation, they give a helping hand to the teens who want to take the lead the next year.
Fun'rais
ing Chairs: Bring a Book, Bring a Friend
Students organize fun'raisers (creating fun with friends on the "giving" end of our mission while creating fun for the kids on the "receiving" end too) to share the joy of reading with children: from book giveaways and special storytimes to the annual K is for Kids From the Heart Teen Fashion Show and Kids Celebrate Reading Book Fair. So many ways to help kids read more and dream more!
—————————————
Fun'raising Season 2014-15
Over 140 students of all ages from 27 schools and universities participated in the 4th Annual K is for Kids Teen Fashion Show!
It was a huge success and earned stellar reviews!
Congratulations to all our teen leaders and thank you to all the students who made the show spectacular!
?list=UU2Amdssb_xM0_lmACpwZyxQ
?list=UU2Amdssb_xM0_lmACpwZyxQ
Click on video above to see LAST YEAR'S SHOW!
Special thanks to ITZ MEDIA!
Students, it's time to launch Fun'raising Season 2014-15!
We begin with Craig Bouchard's World Charity Cup. Help us spread the word how kids can help kids! Join us as we become One World, One Team!

Stay tuned for our next contest launching soon! Mark your calendar now for our highlight events during
TWO fun'raising events for kids of all ages! Bring a Book, Bring a Friend! Teens earn community service hours, leadership roles available!
4th Annual K is for Kids From the Heart Teen Fashion Show on Saturday, February 7th, 2015
Bring a Book, Bring a Friend and earn community service hours.
All books will be distributed by K is for Kids to students across Collier County.
A county-wide community project by teens promoting literacy & leadership.
Models' ages: preschool through college. Leadership roles open!
The teen fashion show features the
2nd Annual YOUNG ENTREPRENEUR SCHOLARSHIP AWARD of $1,000!
and the
4th Annual TALENT CONTEST – Prize $ for top three acts!
To learn more about the competitions, email info@kisforkids.org.
7th annual Kids Celebrate Reading Book Fair & Book Drive on Saturday, February 28th!
VOLUNTEERS:
Earn community service hours, boost your resume and have fun with friends while helping kids of all ages have more dreams to dream and more books to read.
– FGCU students earn service learning hours. –
Leadership positions and internships available.
Students, here are your "power" options:
* Earn community service hours important for school and scholarships;
* Tailor your volunteer hours and activities to match your academic and career needs;
* Boost your resume and work experience;
* Learn project (and people) management from concept and proposal through execution and driving the process to successful completion;
* Utilize entrepreneurial principles to reach your goals and set new ones;
* Be a positive role model and make a positive impact helping children and students;
* Develop skills, discover new ones;
* Volunteer independently or in a team;
* Serve as a leader, a spokesperson, an intern, an ambassador;
* Apply classroom principles in a real-world setting;
* Be self-disciplined, employ K is for Kids' "mobile office" principles;
* Strengthen communication skills;
* Exercise critical thinking;
* Apply creativity strategies to solve problems;
* Establish S.M.A.R.T. goals;
* Become part of a team reaching a common goal;
* See the fruit of your efforts & impact on others;
* Meet kids of all ages & backgrounds;
* Have lots of fun!
— What're you waiting for?!
SIGN UP NOW!
BLASTS FROM PAST FUN'RAISING SEASONS
Click on poster below to view the video made by students!
" target="_blank" rel="noopener noreferrer">
———————
5th "Kids Celebrate Reading" Book Fair on Saturday, February 23rd, 2013, noon to 3 pm at Barnes & Noble Booksellers, Waterside Shops, Naples
Members of our Teen Advisory Team host lots of fun activities for children as they meet guest authors then become young authors themselves!
** Guest author is Lisa Trebilcock of "N is for Naples"!
Fun'raising Stations for Children:
* Puppet Show & Balloon Twisting by Family Entertainer Walt Timoney! *
* Face Painting * Scavenger Hunt * Guest Author Presentation * Prizes * Book Signing * Children Write Stories * Raffles of Two Baskets of Books *
—————————–
FGCU COLLEGE STUDENT VOLUNTEERS & INTERNS
K is for Kids is an approved Service Learning agency of Florida Gulf Coast University. Each semester we also offer internships. Contact your service learning department at 239.590.7015.

Enrich children's lives one book at a time.
Help us raise books for children: A book is a powerful gift that keeps on giving. Spread the power.
Think outside the box.
We encourage teens to be creative with all things "K is for Kids!" by participating in all aspects of marketing and project planning, from designing t-shirts (above, Haylee is wearing the 2009-10 K is for Kids® t-shirt she designed), posters and flyers to brainstorming campaign ideas and slogans for presentations and PSAs (public service announcements), promotions and press releases, and in social media posts and tweets.
Teens get to explore their talents and learn how they can apply those skills to help others in the community, whether it's photography (check out Madisyn's photo gallery on the home page) or a fashion show, face painting or fact finding, baking or brainstorming.
Create learn-and-play fun, literally, for younger children!
Do you like reading and working with younger children? Teens deliver new books for children, and participate in special story times. Afterward, the spend time with the youngsters, helping them talk about and draw pictures of the stories they've heard.
During our K is for Kids® Bring a Book, Bring a Friend® for Children's Literacy Month we sponsor FUN'RAISERS throughout February and teens get busy with many activities. We bring books, authors and the power of reading to children throughout Collier County and our fun'raisers offer many FREE FUN events that the teens come up with!
K is for Kids® values the time and ideas our teens donate.
YOU CAN MAKE A DIFFERENCE.
Sign up today, and bring a friend.
Email info@KisforKids.org,
call 239.596.KIDS (5437).
There's more…
STUDENT LEADERSHIP COUNCIL & TEEN ADVISORY TEAM MEETINGS
Several times a year, gather with other teens and listen to guest speakers who appear to share their life and career experiences. Tell us where you stand and what you hope to accomplish.
Whether you love the arts or the sciences….
Whether you have an interest in the visual, performing, or language arts, or prefer building, science or sociology, develop your skills, experiment with your interests, try out different ways of communicating and applying your ideas amongst your peers, with a mentor, or helping younger children.
Are you destined to stand out in your career?
K is for Kids® spokespersons learn how to feel more at ease in front of the camera and/or in front of the crowd while promoting our cause: books for kids! If your future career — whether it be sports, law, public relations, community activism, etc., means a reporter might be thrusting a mike towards you, whether in the field or in the courts, learn to speak up and be heard while helping other children in your community.
Do words flow easier on paper for you?

Write slogans, press releases, blogs and op-eds (opinion-editorial). Our teens also videotape K is for Kids® PSAs (Public Service Announcements) and other short video clips – 30-sec., 1-min., 3-min. promoting our cause, books for kids! The teens share their own messages.
Want to learn the basics of 'business?'
Do you want an intro to the bare bones of business? From life plans, mission statements and strategic planning, helping us plan projects and seeing them though will show you how actions, both small and large, can have a significant impact on our cause.